Yesterday, Cecile Richards, the President of Planned Parenthood, spent over five hours testifying about the organization before the House Oversight Committee. In an extremely dishonest and amateurish effort to win the Gotcha Game, Republican Representative Jason Chaffetz from Utah confronted her with the following chart. Jennifer Bendery of the Huffington Post describes what happened.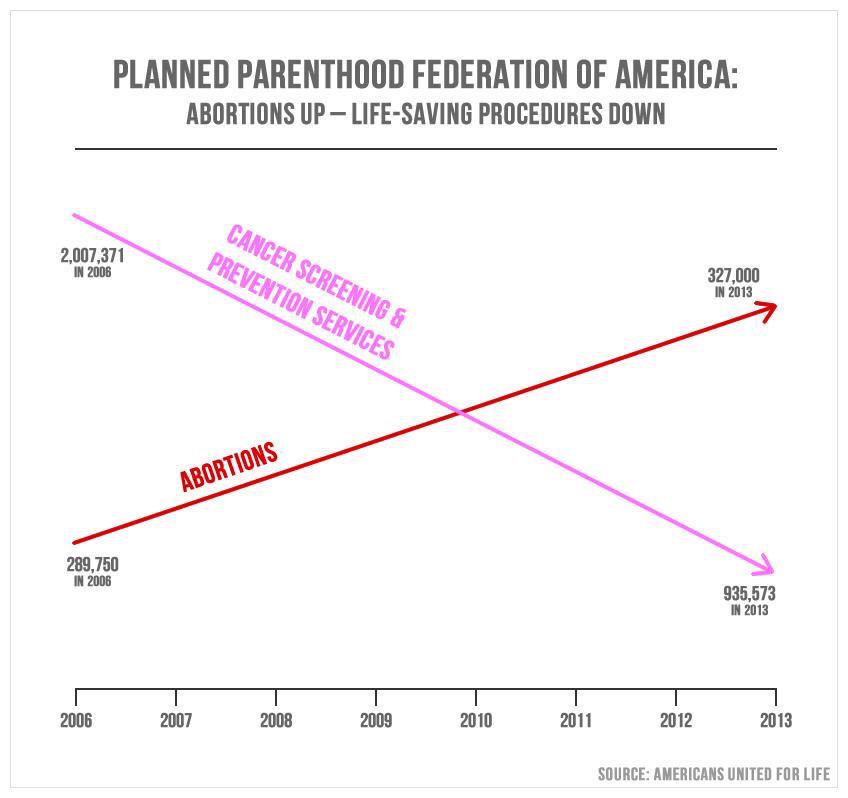 As his time ran out, he put up a chart showing the rate of abortions increasing at the clinics while the number of "life-saving procedures" performed decreased, and demanded that she explain. Nobody seemed to know where the chart came from, and Richards said it was inaccurate. Her attorney finally leaned over and cleared it up.

"My lawyer's informing me the source is Americans United for Life, which is an anti-abortion group," said Richards. "So you might want to check your source."
Zachary Ross of MSNBC explains what's wrong with the chart, which appears to indicate that the PP performed far more abortions than cancer screening and prevention services in 2013, which is contrary to her testimony.
But look at the actual numbers in the graph. They show that in 2006, Planned Parenthood performed 2,007,371 anti-cancer services and 289,750 abortions. By 2013, the gap had closed slightly, but the group still performed many more anti-cancer services than abortions, 935,573 to 327,000.

Why does it seem otherwise? Because the "graph" has no y axis, which allows its creators to simply plot the results wherever they choose in order to create a compelling visual effect. That's how 327,000 is made to look like a much larger number than 935,573.
This is yet another example of intentional deception by Chaffetz to go with Carly Fiorina's lie about the so-called 'Planned Parenthood video' that she claimed proved the PP was performing abortions to harvest fetal brains for profit. According to Dr. Jen Gunter, the video is not from PP, given the procedures followed.  It's likely more than 15 years old and it shows a premature stillborn birth, not an abortion.
The Republicans are willing to play games with women's health and lie through their teeth to destroy Planned Parenthood. They are also planning to shut the government down on December 13th for as long as it takes to force the Democrats to defund PP.
They are insane and very dangerous. Fortunately, they also are stupid.
The chart is from PBS. Right-click on it above to view the complete image (or click the link).
(H/T to Malisha for providing the link to Dr. Jen Gunter's website)